PRESS RELEASE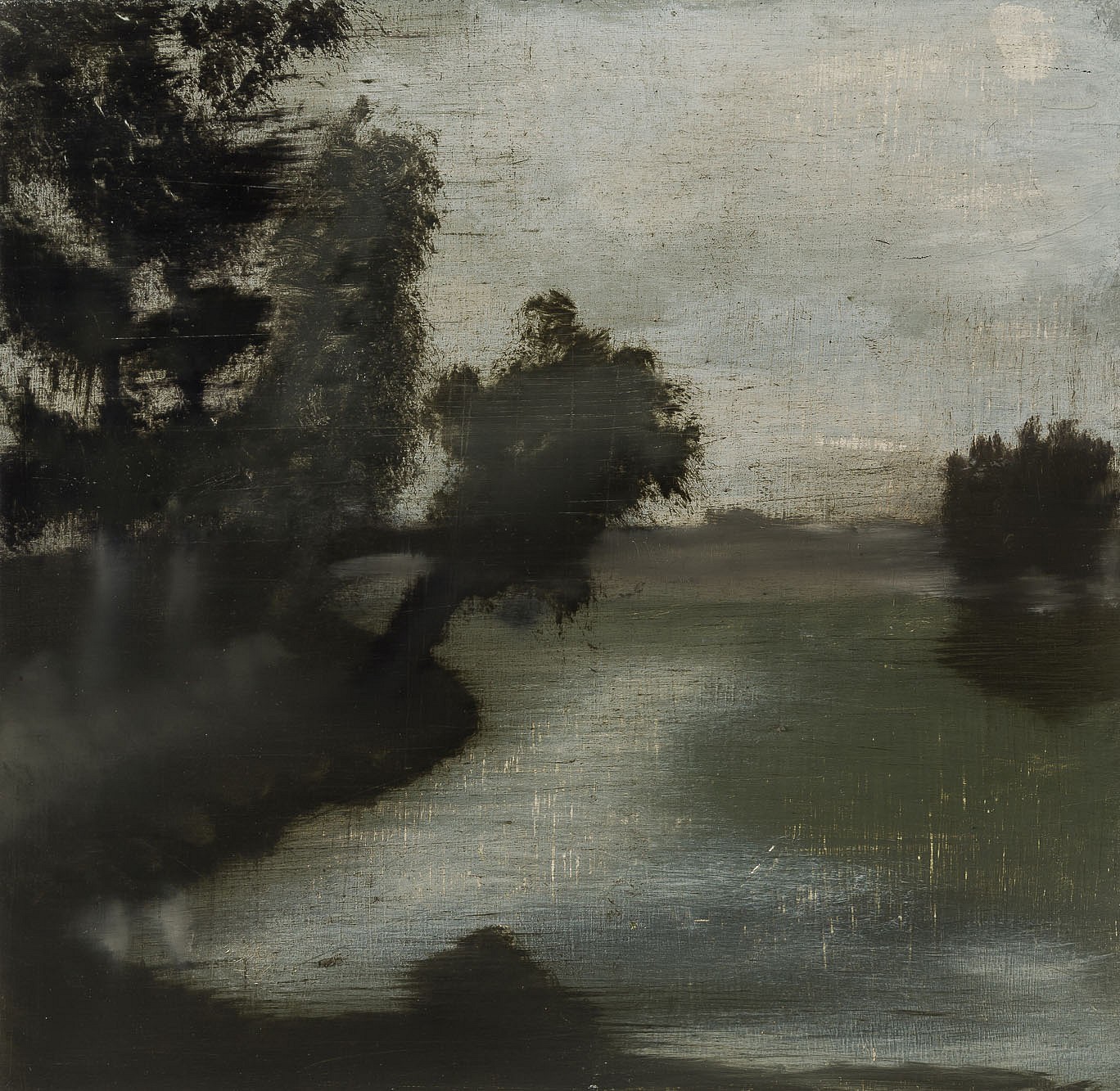 Poogy Bjerklie, Inland
Jan 7 – Feb 6, 2016
Poogy Bjerklie: Inland

Exhibition Dates: January 7 – February 6, 2016
Opening Reception: Thursday, January 7, 6:00 – 8:00 p.m.
New York, NY— In Poogy Bjerklie's debut exhibition at Sears-Peyton Gallery, Inland, ponds glow silver-white under an unseen moon, hemmed by dark green hills. The dense forests and deep silence of Bjerklie's childhood in Maine's interior re-emerge in these intimately-scaled landscape paintings, inviting the viewer to experience nature both in its immediacy and as a soundless and lucid memory. Lush yet restrained, immediate and remote, Inland draws viewers into the mossy coves and languorous evenings of a Maine summer.
In Edge, sooty pines loom up over a burnished pond. The pale gray, white, and pewter sky pushes the dark trees to the foreground edge, bring them close to the viewer. Glossy passages and buffed expanses of opaque oils alternate on the surface, offering reflective depth and textured opacity by turns—a visual transit between states that invites viewers into a heightened experience of nature and its solemn translation in memory.
In her studio in the heart of Brooklyn's Bedford-Stuyvesant neighborhood, Bjerklie paints early in the morning, but always renders the Maine twilight—the fleeting time between sunset and nightfall when the summer trees and hills gather darkness. As winter stretches on, Inland opens an invitation for viewers to linger and revel in a space of remoteness and memory, where the close hum of a summer evening haunts our experience of the present.
"Poogy Bjerklie: Inland" is on view January 7 – February 6, 2016 at Sears-Peyton Gallery's Chelsea location at 210 Eleventh Avenue. An evening reception will take place January 7 from 6:00 – 8:00 p.m. Sears-Peyton Gallery is open 10 a.m. – 6 p.m. Tuesday through Friday, and 11 a.m. – 6 p.m. Saturdays. For more information or to request further press images, please contact the gallery at info@searspeyton.com.