BIOGRAPHY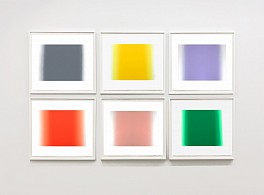 "My work interfaces along a continuum of color and materiality. Inspired by observations of the manner in which light affects color with its passing movement and changes I am fascinated by the power of color to evoke emotion and to encourage contemplation, allowing the viewer to become the subject of the work.
"In my daily studio practice I attempt to strike a balance between painterly guts and the pared down elegance of formalism. The inherent tension between these two elements is filled with mystery and metaphor, challenging me to create works which have a sense of inevitability about them and which reveal a sense of oneness with the viewer."
- Betty Merken
Betty Merken has had 31 solo exhibitions and 50 group exhibitions in the United States and abroad and her work is held in numerous private and public collections in the United States, Europe and Asia. Her paintings and works on paper have been exhibited nationally and internationally and are represented in the collections of the UCLA Hammer Museum, Los Angeles, the Fine Arts Museums of San Francisco, the Portland Art Museum, Portland, OR, the Jordan Schnitzer Museum of Art, Eugene, OR, the Long Beach Museum of Art, Long Beach, CA, and the Civita Institute in Civita di Bagnoregio, Italy. She has been honored as a recipient of fellowships and awards from the BAU Institute, Otranto, Italy, the Civita Institute, Civita di Bagnoregio, Italy, and the Pinea-Linea Foundation, Rota, Spain.
In contrast to the majority of contemporary printmakers who employ traditional printmaking methods such as etching and lithography to create multiples of an
image, each of Betty Merken's prints is one of a kind— a unique print, a monotype,
one of the most challenging, innovative, and painterly of the high profile print techniques.
Betty Merken's work addresses focused investigations of color and light, structure and proportion, process and materials. Curators and critics often characterize her prints as having the authority of paintings and have placed her work within the context of the work of Josef Albers, Piet Mondrian, Barnett Newman, Mark Rothko, Donald Judd, and James Turrell, defining her position within the context of modern and contemporary art.