BIOGRAPHY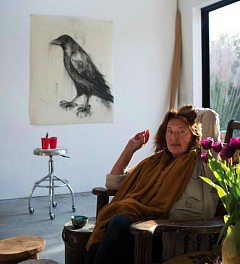 A lifetime of studying our symbiotic relationship with nature has allowed Jane Rosen to produce this stunning new body of work. Optimistic and transporting, these postmodern, posted sentinels, blown glass birds and other animals, capture our attention as they gaze back at and beyond us from recycled limestone perches.
The poet Robinson Jeffers, who found, as did Jane the New Yorker, his place in the world not on his native East Coast but on the edge of California, shared Jane's subject matter. At the end of "Vulture," one of Jeffers' best-known poems, he tells the raptor circling him that he's come too soon then continues:
But how beautiful he looked, gliding down on those great sails; how beautiful he looked, veering away in the sea-light over the precipice. I tell you solemnly that I was sorry to have disappointed him. To be eaten by that beak and become part of him, to share those wings and those eyes-What a sublime end of one's body, what an enskyment; what a life after death.
Jane's work is an enskyment addressing the same profundities as Jeffer's poems did: impermanence, the beyond, and in this age of new age what might be called beingness. Animals have been Jane's subjects for years, but finally, ironically, it's this most representational sculpture and tablature that are earning her the serious attention she long deserved. Here's what critic Tracy Cochran wrote about a piece of Jane's shown at the Danese Gallery: "Standing on a pedestal of limestone, was a "Goshawk" made by the artist Jane Rosen of hand blown, pigmented glass. Somehow Rosen captured wildness, fleetingness, and eternity all at the same time. This work of art helped me see that there is something beyond impermanence, something hawk eyes may see."
Given, too, the precariousness of our and the planet's existence, Jane's work is sublimely political. These hand blown beings defy time, draw us, in the artist's words, "to something other . . . It's as if I made a class of attentive birds to replace my students as I sit in my studio chair listening to stories of life lived watchfully in the trees."
Jane's process of creating sculpture in glass is complex, collaborative, chemical—almost alchemical. Starting with a drawing, say of a posted Cooper's hawk, she assembles a palette of glass powder then, painstakingly, creates the sculpture. Working with several gaffers, using fire and water, they shape, add pigment, heat and blow the glass until the sculptures take form.
I've been fortunate to know Jane Rosen both in New York, where she lived in a SoHo loft and taught at the School of Visual Arts, and in California where she resides on the crest of a green valley south of San Francisco. To truly see Jane Rosen's sculpture one needs to look at her work the way one looks at a Rothko painting, quietly and without distraction. The reward is great.
-Tessa Wilcox
Rosen was recently selected by the American Academy of Arts and Letters for inclusion in their 2010 Annual Invitational in New York, a prestigious exhibition juried by some of the greatest artists of our time. A masterful and sought after teacher, Rosen has taught at numerous elite institutions including the School of Visual Arts and Bard College in New York, LaCoste School of the Arts in France, Stanford University and the University of California at Berkeley. Rosen's work has been reviewed in the New York Times, ArtForum, Art in America, and Art News. Her work has been exhibited across the United States and is in numerous public and private collections including the Albright-Knox Art Gallery, the Aspen Art Museum, the Brooklyn Museum, the Chevron Corporation, the collection of Grace Borgenicht, JP Morgan Chase Bank, the Luso American Foundation, the Mallin Collection, the Mitsubishi Corporation, and the Museum of Contemporary Art San Diego.