PRESS RELEASE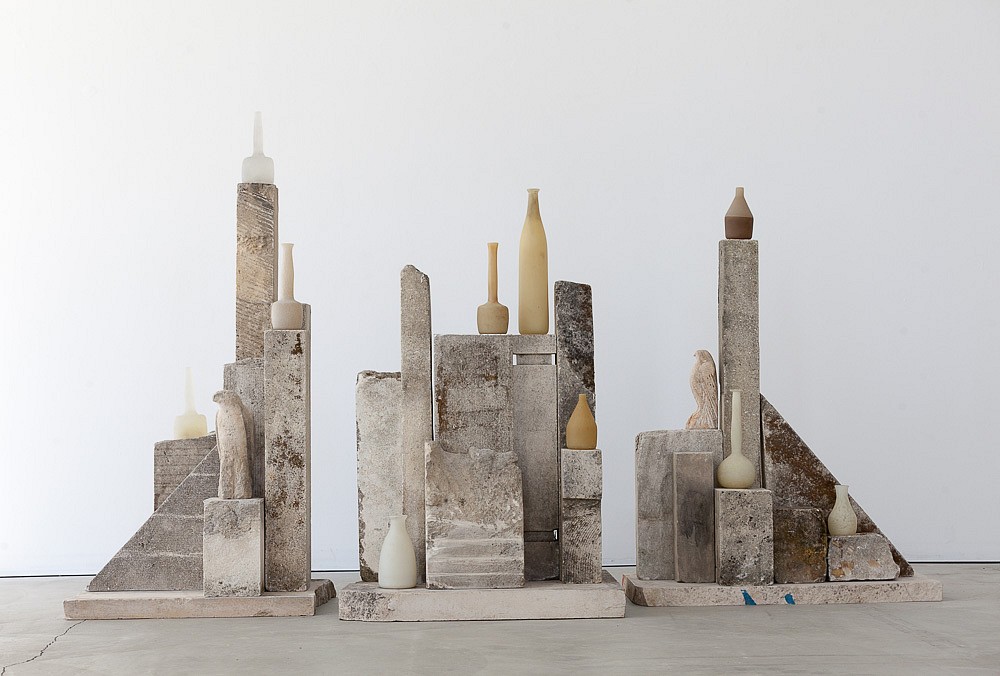 Jane Rosen
Oct 18 – Dec 14, 2018
Affective Allusion: Jane Rosen's Knight to Rook
Exhibition Title: Jane Rosen: Knight to Rook
Exhibition Dates: October 18 – December 14, 2018
Gallery Opening: October 18, 6:00 – 8:00 p.m.
New York, NY— In Knight to Rook, Jane Rosen's allusive, seemingly timeless sculptures and drawings at Sears-Peyton's Chelsea gallery conjure a stilled world of stone and glass that nevertheless hums with quiet vitality. The exhibition's art historical references—from archaic Egyptian sculpture to Giorgio Morandi—link here with the sculptural forms of chess pieces and personal resonances.
The interwoven art historical sources for Rosen's work echo the soft gravity of Giorgio Morandi's still lifes—the jar and bottle forms of which often recur in Rosen's own works. She explained the early 20th century Italian painter's influence on her, "He speaks of surface and the relationships of forms. To create a still life by setting up casual sculptural elements, and then drawing from it, is what interests me." Rosen's attention to formal and conversational relationships in this Morandian vein are evident in the work she titled as an homage. Moss Morandi joins stone, glass, and crystal in a grouping of carved stone and glass works that echo an Egyptian pyramidal form and Horus-like bird figures, combining them with blown and formed glass vessels drawn from Morandi's syntax of hushed domesticity.
"Knight to Rook," a reference to chess—a game she fondly remembers her father teaching her—also references her late dog Rook. The title's "to" implies a strategic movement—perhaps even an endgame—between these art-historical, personal, and formal sets. Yet it might also echo the viewer's passage through the exhibition, where a field of dense allusion is tenderly distributed, allowing between the silent and sensitive works any number of possible moves.
Jane Rosen: Knight to Rook is on view October 18 – December 15, 2018 at Sears-Peyton Gallery's Chelsea location at 210 Eleventh Avenue. There is an evening reception October 18 from 6:00 – 8:00 p.m. A catalogue with an interview with Richard Whittaker has been published to coincide with the exhibition. Gallery Hours are 10 a.m. – 6 p.m. Tuesday through Saturday. For more information or to request further press images, please contact the gallery at info@searspeyton.com.