PRESS RELEASE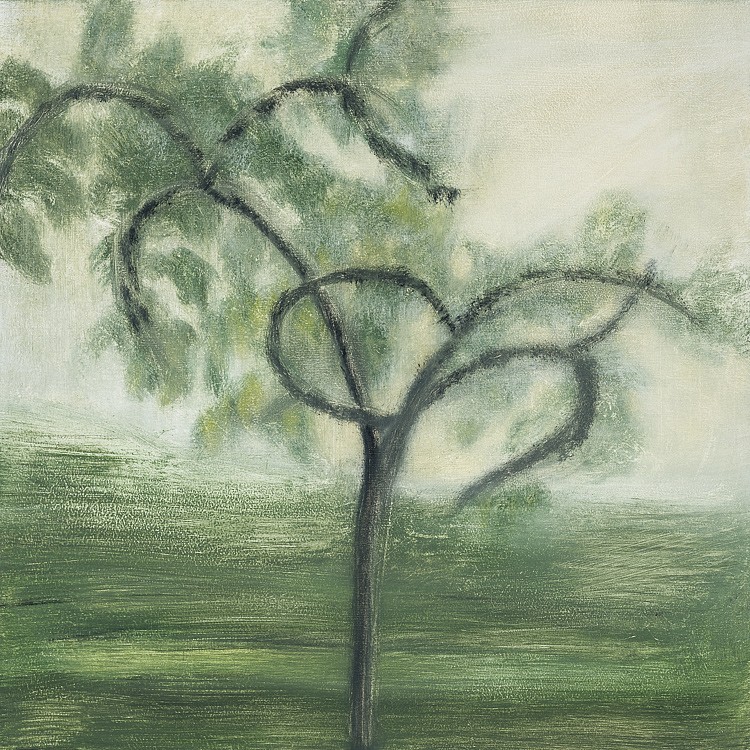 Poogy Bjerklie, The In Between
Jan 9 – Feb 15, 2020
New York, NY - In Poogy Bjerklie's second exhibition at Sears-Peyton Gallery, The In Between, landscape paintings, rendered both intimate and anonymous, are imagined and reimagined on dreamy, luscious surfaces.
Susan Canning describes Bjerklie's work as "tranquil, meditative landscape paintings invite us into a world both familiar and mysterious. Sharply observed and aware of the passing of time and changeable light, these arrangements of trees, land and sky and the occasional path, lake or pond sing with melodious color harmonies. Set against crepuscular skies painted in warm opaque yellows overlaid with pink, white and blue, the light and dark green abstracted shapes of trees play within and against yellow-green/blue- grey fields and purple mists, even as curving pools of white and green highlighted here and there with red add a reflected counterpoint. The trees might be stalwart pines entwined in capricious fog and mist but in Bjerklie's evocative conjoining of looking and imagining they become quirky, enigmatic shape-shifting figures in dialogue with each other and their surroundings. Softly brushed layers of color pigment blend into a mesmerizing mix of paint and process to transform the peculiarities of place into expressive dream-like spaces filled with a range of moods and musicality. Carrying on the tradition of Albert Pinkham Ryder and Marsden Hartley, Bjerklie's poetic landscapes, with their knowing gaze and deep, personal inner vision, dive into the mystic and proceed directly to the soul of things."
Poogy Bjerklie (b.1954) grew up in Hallowell, Maine. This is her second one-person exhibition with the gallery. Her previous show "Inland" was reviewed by Karin Wilkin in "The Hudson Review" and led to a one-person show at the Maine Museum of Art in 2018. Poogy lives and works in Brooklyn, NY. "Poogy Bjerklie: The In Between" is on view January 9 – February 15, 2020 at Sears-Peyton Gallery's Chelsea location at 210 Eleventh Avenue. An evening reception will take place January 9 from 6:00 – 8:00 p.m. Sears-Peyton Gallery is open 10 a.m. – 6 p.m. Tuesday through Friday, and 11 a.m. – 6 p.m. Saturdays. For more information or to request further press images, please contact the gallery at info@searspeyton.com.