PRESS RELEASE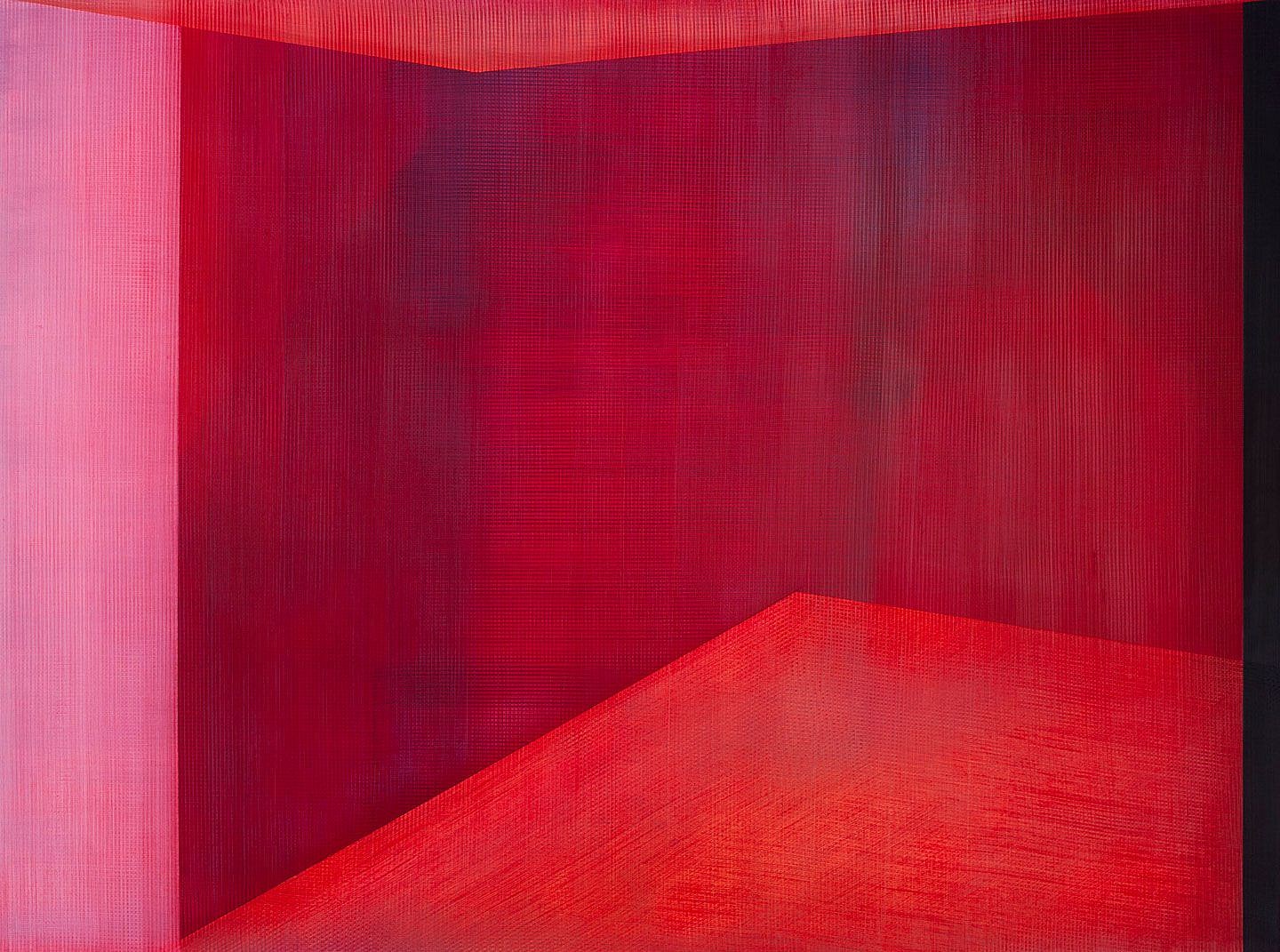 Karin Schaefer: Continuum
Oct 13 – Nov 5, 2022
New York, NY - In Continuum, Karin Schaefer's second solo exhibition at Sears-Peyton Gallery, the artist exhibits a series of new oil paintings in which luminous fields of color intersect and diverge over the sloping angles of invented architectures. The works were influenced by the mercurial lines of Lenore Tawney, the austere order of Agnes Martin, and the James Webb Space Telescope, whose images of ancient time translate ancient light into color. In Schaefer's Continuum, architectural and psychological spaces likewise emerge through color, line, light, and form, yielding contemporary painterly spaces built from the legacies of art, time and color.
Laboriously constructed in successive layers of color that seem decanted from a prism, the artist slowly builds the room-like or stage-like worlds of her paintings in lucid yellows, ultramarine blue, vibrant greens, and pomegranate pink. Building up and scoring her surfaces with incised lines, Schaefer's bright geometric planes shift and unfold over panels like daylight tracing the corners of a room, holding and releasing colors like hours in a day.
The works in Continuum, all created in 2022, range in size from two to five feet on a side. Seen together, the works could be windows onto an unfolding interior as light passes over the walls of an origami mansion as they reconfigure. Seen in isolation, each work's particular geometry, textured surface, and subtle chromatic shifts evoke distinct and engrossing atmospheres.
The changeability of these invented spaces rhymes with the diversity and ingenuity of their sources; while painting, the artist found herself thinking of the geometric elegance of Lenore Tawney's work, the painstaking pencil lines of Agnes Martin, the stage sets of German Expressionist films, hard-edged painting from mid-century, the high-tuned color contrasts of Josef Albers, and the ancient light now emerging in images from the Webb Telescope. "Everyone is in the room," Schaefer says of her process and influences, "it's all integrated and intersectional - hard-edged abstraction, an illusion of space, literal and phenomenal transparency, the heartbreak of the world, and joy, Queer joy! I'm inhabiting these unfolding spaces and inviting people in. These paintings are not prescriptive; they don't land in one lineage."
"I've spent a lot of time thinking about time and light and the relationship of how time changes things," the artist says, "things are constantly in flux." There's time in the paintings, in their literal layers, but also in the color that dawns over these works in the very wavelengths that now show us, through the Webb Telescope, ancient time. Continuum is an unfolding of color and space, merging art and architectural relationships to render the materiality of light. They thread color and time over scored geometries as connecting as they are ephemeral, always in flux.
Karin Schaefer (b. 1968) grew up in the United Kingdom, and Detroit, MI before attending the Museum School of Fine Arts and Tufts University in Boston, MA where she received a BFA. She was an artist in residence at the Isamu Noguchi Museum in Long Island City, NY, and has twice been an artist in residence at the Josef and Anni Albers Foundation in Bethany, CT. Schaefer has had solo exhibitions at Christopher Henry Gallery, NY, Robert Pearre Fine, Tucson AZ, and Sears-Peyton, NY. Schaefer has participated in numerous national and international group exhibitions including at the Barbican in London, and the Museum of Contemporary Art in Tucson, AZ. She is represented by Sears-Peyton, (New York and L.A.) and Bernay Fine Art, (Great Barrington, MA)
Schaefer's work has been written about in The Wall Street Journal, San Francisco Chronicle, and The Last Magazine. Her work has been included in several books, including two on mapping published by Princeton Architectural Press, and Rapture published by Thames and Hudson. She lives and works in South Egremont, MA and Brooklyn, NY
Karin Schaefer: Continuum is on view October 13 – November 5 at Sears-Peyton Gallery in their Chelsea location at 210 Eleventh Avenue. There is an evening reception October 13 from 5:00 – 7:00 p.m. Exhibitions are open to the public Tuesday-Friday from 11:00 - 5:00pm and Saturdays from 12:00-5:00pm. For more information or to request further press images, please contact the gallery at info@searspeyton.com.