PRESS RELEASE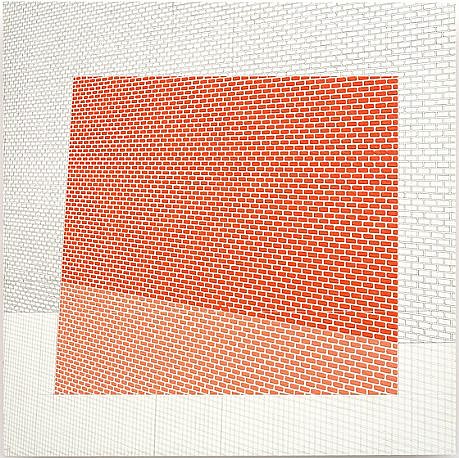 Sara Eichner, Plane Equilibrium
Nov 20 – Dec 20, 2008
Sara Eichner: Plane Equilibrium
November 20, 2008 – December 20, 2008
Opening Reception: November 20, 2008, 5-7PM
Sears Peyton Gallery is pleased to present an exhibition of new works by Sara Eichner, entitled Plane Equilibrium.
Sara Eichner's work is an exploration of space in architecture and painting, how space can present itself on a two-dimensional surface, and the contradictions that arise when three-dimensional space is translated to two dimensions. The early influence for Eichner's architecturally inspired paintings was the siding used on houses in her Williamsburg neighborhood. "I was fascinated by the unusual materials people used to face their houses in this area – the attempt to replicate natural materials, like stone and wood, in manmade materials and in unusual colors, such as pink, green and blue," explains Eichner. "These urban and architectural patterns – translated and abstracted in pencil and paint into repetitive grids – have become the conceptual foundation for my investigation of spatial planes."
Eichner develops drawings derived from these patterns and then puts them into a specific perspective. Through a meticulous and absorbing process, she paints what in print may appear to be mechanically produced patterns, but are in fact, handmade, rich with texture, and full of subtleties and variation. Eichner composes her pieces by drawing an underlying pencil grid, which anchors the piece to the panel or paper. She then applies layers of oil paint giving the image body and gloss. When Eichner breaks the grid, the intentional interruption of the predictable pictorial resolution creates multiple points of view.
The exhibition presents Eichner's minimalist pieces drawn on 15"x15" and 25"x25" wood panels and 22 x 30" paper. The sides of the one inch deep wood panels are beveled, allowing the paintings' surfaces appear to be floating off the wall. The beveled-wood panels in combination with pencil grids and light, bright colors make the pieces in her new series feel airy and ephemeral.
This show marks Sara Eichner's second solo exhibition at Sears Peyton Gallery. Eichner has also had solo exhibitions at McDonough Museum of Art, Pentimenti Gallery and PPOW Gallery. In 2000, Eichner was awarded a fellowship from the New York Foundation of the Arts and was an Artist in the Marketplace at the Bronx Museum of Art. Eichner holds a MFA from Syracuse University.
About Sears Peyton Gallery
Founded in 1999 by Macie Sears and Gaines Peyton, Sears-Peyton Gallery is located in Manhattan's Chelsea neighborhood and represents the work of contemporary American artists. With emphasis on process-driven exploration, improvisation, and rigorous craft, Sears Peyton's artists are committed to producing earnest and contemplative works of art. While the gallery's artists work in a wide variety of media and subject matters, the common thread that unites this diverse stable of talent is a grounding in historic styles and subjects, rendered contemporary and seductive through modern processes, interpretations, moods and techniques. The resulting work feels simultaneously timeless and timely.
The gallery is committed to the long term development of their artists – placing works in public and private collections as well as acting as an accessible public space in which works are exhibited and become part of the cultural dialogue.
The show will be on view at Sears Peyton Gallery, 210 Eleventh Avenue, Suite 802(between 24th and 25th streets) from November 20 through December 20, 2008. Sear Peyton Gallery is open Tuesday through Friday from 10:00AM to 6:00PM and Saturdays from 11:00AM to 6:00PM.