PRESS RELEASE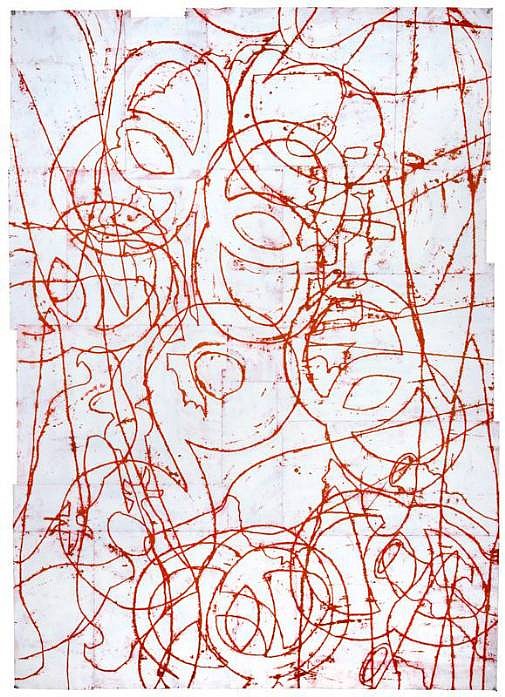 Bo Joseph, Fragments of a Worldview
Feb 23 – Apr 5, 2012
Bo Joseph:
Fragments of a Worldview
February 23 – April 5, 2012
Opening Reception: Thursday, February 23, 5 – 7 pm
Sears Peyton is pleased to present Fragments of a Worldview, the gallery's third solo exhibition of New York artist Bo Joseph, on view February 23 – April 5, 2012. This exhibition will feature seven large works on paper, five of which measure nearly seven feet high, from an ongoing series that has been the focus of Joseph's practice since his return from Berlin in 2009.
Joseph has always considered drawing to be the foundation of a practice dedicated to process, material invention and appropriation. In this series, he re-contextualizes cultural and historical icons by applying oil pastel, tempera and acrylic on a patchwork of paper in a rigorous method of deconstruction and reassembly. Joseph's method is steeped in the use of objects that are, at first, easily identifiable but then perish after undergoing his unrelenting physical process, re-emerging with new life and altered meaning. Like some post-disaster excavation of a heterogeneous museum, Roman helmets, erotic figures, Louis XIV chairs and African masks commingle with German childrens' clipart, Pre-historic tools and architectural shards. Rhythmic outlines of widely divergent co-opted sources interweave in tattered allegories of disintegration and reunion—some are vibrantly colored, others are subtle tonal ruminations—revealing an elusive vocabulary of fragmentary byproducts that is distinctly Joseph's own.
For most of his career, Joseph has explored appropriation, layering of imagery, and dialectical content. Joseph has stated, "I choose to adopt forms that resonate with an archetypal or universal charge…a certain quality or power that seems to transcend boundaries of culture or time. I subject these sources to a barrage of attacks both to assimilate them and to unconsciously train my understanding of how their resonance either persists or is reconciled within shifting contexts of environment and time." Often used and reused, these scavenged sources have accumulated and transformed, taking on evolving roles within his ongoing examinations of collective knowledge and ideological interdependence.
Bo Joseph (b.1969) has exhibited internationally and has been honored as the recipient of the Basil H. Alkazzi Award and fellowships in painting from Provincetown Fine Arts Work Center and the Rhode Island State Council on the Arts. He has been a visiting artist/lecturer at the University of Massachusetts, Dartmouth, and the Rhode Island School of Design, Providence, where he has also taught drawing. Joseph was chosen to design a table environment for the Brooklyn Museum's Artists Ball in 2011. His work is held in international public collections including the Museum of Fine Arts, Houston; the Kemper Museum of Contemporary Art, Kansas City, MO; The Springfield Museum of Art, Springfield, OH; and the Guilin Art Museum, Guilin, China. His work has been reproduced in Art in America and The New York Times, and has been the subject of two National Public Radio segments. Joseph received a B.F.A. in painting from the Rhode Island School of Design and currently lives and works in New York City.