PRESS RELEASE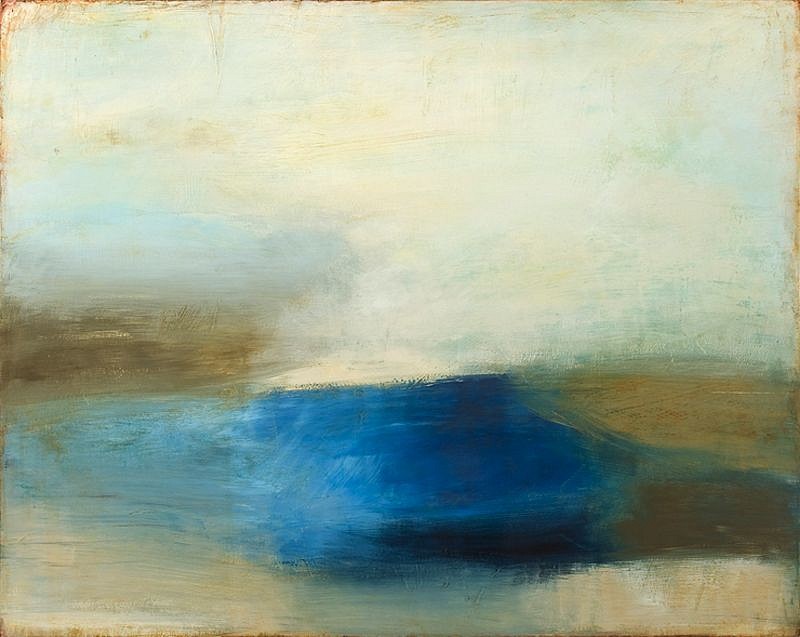 Shawn Dulaney, All the Open Space
Apr 3 – May 10, 2014
Shawn Dulaney, All the Open Space
Opening Reception: Thursday, April 3, 5-7 PM
In a big sky;
All the open space
says nothing,
but beckons;
Cerulean,
Deep River,
Bleed.
-Kane Dulaney Balser
Sears-Peyton Gallery is pleased to present All the Open Space, an exhibition of recent paintings by New York artist Shawn Dulaney. This is Dulaney's seventh solo exhibition with the gallery. In this exhibition the artist continues her exploration of landscape in a spirit that breathes a memorable light into a familiar vernacular.
The aritst's careful blending of color means that each layer of paint is as important as the last and the next, with all of them coming together to create a unified surface. It was easy to get lost in the poetry of the drips as well as the emotion of Dulaney's elusive and abstract depictions of land and sea. Indeed, as the viewer moved closer to or farther back from the canvases, the images tricked the eye by becoming more realistic or less so, and sometimes the "speed" of the canvas even seemed to fluctuate. Suggestions of sand, clouds, and rain rushed in- or settled discreetly and harmoniously.
-Doug McClemont, ARTnews magazine, April 2012
Born and raised in Colorado, Shawn Dulaney lives in Brooklyn with her husband and two sons. She exhibits at Sears-Peyton Gallery in New York. Dulaney was included in the Parrish Art Museum's prestigious Juried Exhibition and was a featured artist in the publication "New American Paintings #20." Her work has been acquired by many private and public collections, including The Hunterdon Museum of Art, NJ; Pfizer Inc, NY; General Electric, NY; Steve Buscemi and Jo Andres, NY; Annie Proulx, WY. Dulaney has also received critical acclaim in the New York Times and ARTnews magazine.
Founded in Soho in 1999 by Macie Sears and Gaines Peyton, Sears-Peyton Gallery now has two locations: a public gallery in Manhattan's Chelsea art district and a private viewing space in Brentwood, Los Angeles, CA.
Sears-Peyton represents the work of contemporary American artists. With emphasis on process- driven exploration, improvisation, and rigorous craft, Sears Peyton's artists are committed to producing earnest and contemplative works of art. While the gallery's artists work in a wide variety of media and subject matters, the common thread that unites this diverse stable of talent is a grounding in historic styles and subjects, rendered contemporary and seductive through modern processes, interpretations, moods and techniques. The resulting work feels simultaneously timeless and timely.
The gallery is committed to the long-term development of their artists – placing works in public and private collections as well as acting as an accessible public space in which works are exhibited and become part of the cultural dialogue. We have participated in fairs such as The Works on Paper Show at the Park Avenue Armory, the LA Art Show, Red Dot Miami, Pulse Los Angeles, and Pulse New York. Gallery artists and exhibitions have been covered in various publications including ARTnews, Art in America, Elle Décor, Sculpture Magazine, Works in Conversation, 7 x 7 Magazine, Wallpaper Magazine, Metropolis Magazine, Parabola Magazine, Drawing Magazine, The Village Voice, and The New York Times.