PRESS RELEASE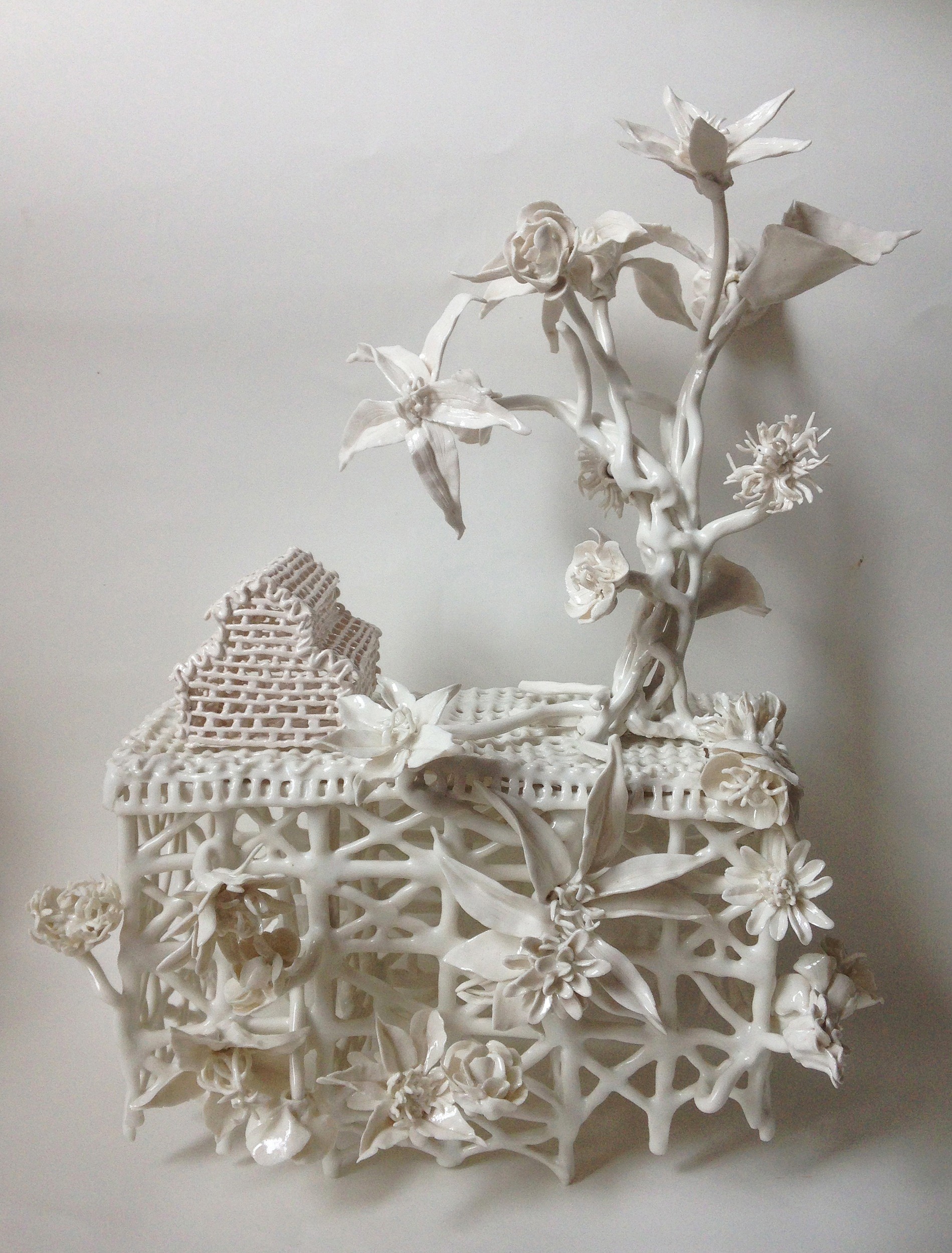 Susan Graham, Simone Shubuck, & Wendy Small: Bittersweet
Apr 14 – May 15, 2016
In Bittersweet, Florals Interlace and Mutate
Exhibition Title: Bittersweet
Curator: Wendy Small
Exhibition Dates: April 14 – May 15, 2016
Opening Reception: April 14, 2016, 6 – 8 p.m.
New York, NY— The Bittersweet plant is paradoxically both poisonous and, in the Victorian language of flowers, symbolic of truthfulness and honesty. In this three-person exhibition Bittersweet, curated by participating artist Wendy Small, botanically-influenced works by Susan Graham, Wendy Small, and Simone Shubuck appropriate the complex intertwinings of foliate patterns to consider the fragile and fraught interconnections of relationships, technology, and the environment.
Susan Graham works in media as diverse as ceramics, cut paper, woodblock prints, and sugary fondant icing. The latter she pipes into thready sculptures whose foliate understories transform into geometric manmade structures—power stations and construction scaffolding, for example—suggesting the often-uneasy co-habitation of technology and the natural environment.
In Wendy Small's series of photograms, Remedies, black and white silhouettes of collected weeds and plants bloom in radial symmetry. These plants, organized on photo-sensitive paper, result in profusions of grasses, herbs, spiky leaves and fluffy dandelion heads that suggest order as much as entanglement. The works recall traditions of gardening, flower arranging, and botany that balance the wildness of nature and rationalistic aspirations of society.
Simone Shubuck's mixed-media works combine graphite drawing, opaque acrylic shapes, collaged images, and pastel smudges. These painterly constellations of forms often hover around gravitational centers with drawn or painted botanical motifs jockeying with colorful orbs and loosely worked lines. These painterly admixtures suggest the fragile balances of relationships or ecosystems suspended between a gravitational pull towards density and a centrifugal drive toward chaotic disintegration.
"Bittersweet," featuring works by Susan Graham, Wendy Small, and Simone Shubuck is on view April 14 – May 15, 2016 at Sears-Peyton Gallery's Chelsea location at 210 Eleventh Avenue. There is an evening reception April 14 from 6:00 – 8:00 p.m. Sears-Peyton Gallery is open 10 a.m. – 6 p.m. Tuesday through Friday, and 11 a.m. – 6 p.m. Saturdays. For more information or to request further press images, please contact the gallery at info@searspeyton.com.