PRESS RELEASE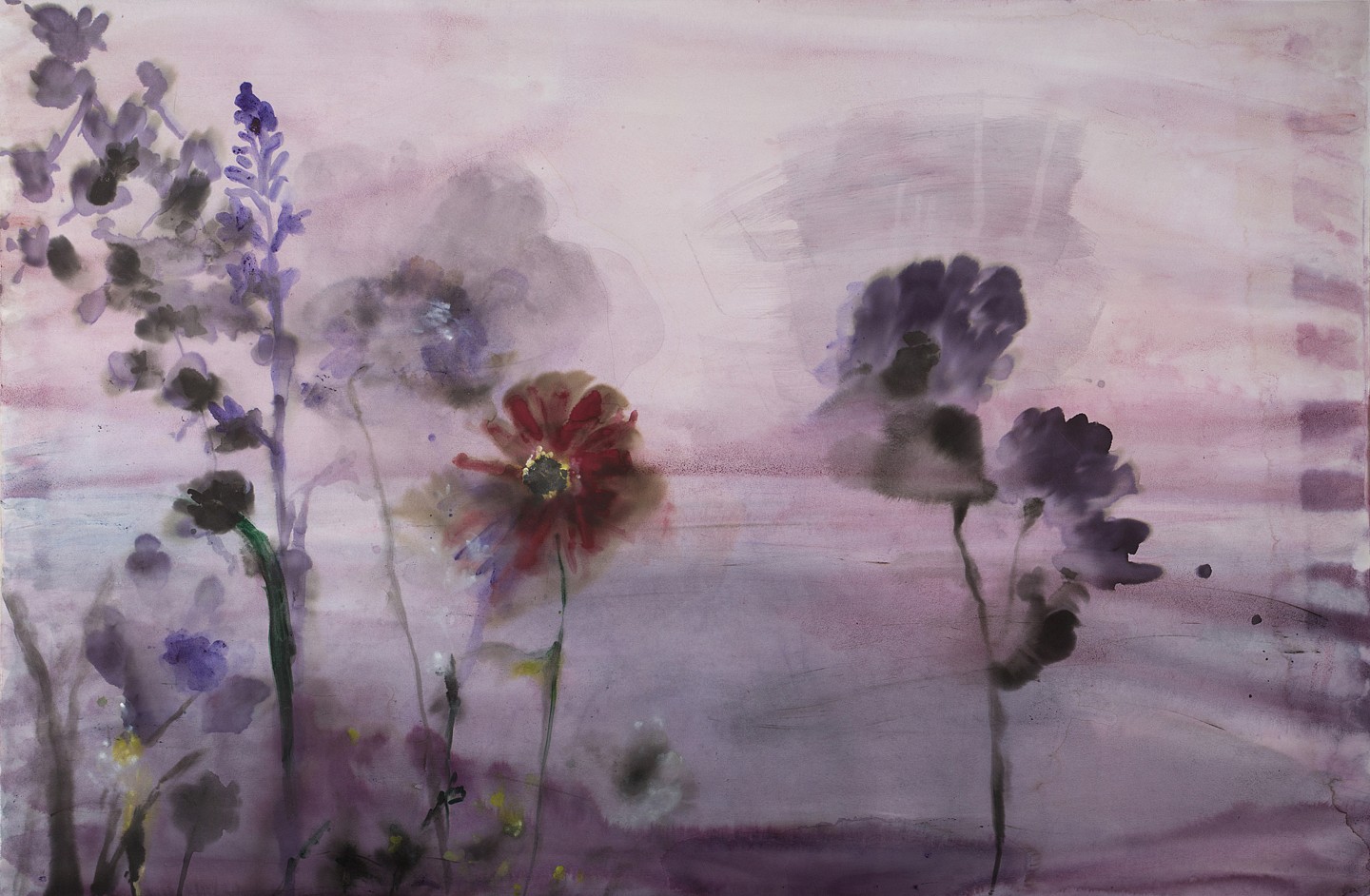 Lourdes Sanchez
Apr 19 – Jun 2, 2018
Personae Botanica
Exhibition Title: Lourdes Sanchez: Gaze
Exhibition Dates: April 19 – June 2, 2018
Gallery Opening: April 19, 6:00 – 8:00 p.m.
New York, NY—In Lourdes Sanchez's second solo exhibition at Sears-Peyton Gallery, an almost otherworldly biome of intensely hued blossoms unfurl and bleed into saturated washy fields. Heavy atop reedy stalks or emerging like moonflowers from nocturnal grounds, Sanchez's florals have an anthropomorphic presence. "I want these pictures to feel like portraits," Sanchez explains, "an acknowledgement of a specific life, never specimens." Sanchez renders flora living beings that, as we gaze at them, seem to stare defiantly back.
Painted using a variety of media and techniques, Sanchez engineers her watercolor, gouache, and ink to work with and against their supports. She chooses papers against which the colors slip or pool. Created in her studios in Brooklyn and in Merida, Yucatan, some paintings reflect the clear, expansive light of New York at dusk, while others body forth the intense humidity of the sweating walls against which they were pinned, and the lively insects, birds, and cantina music that suffused the Yucatan evenings during which they grew.
Sanchez's specimens are drawn from life, from photos or illustrations reproduced in books, or from an imaginary flora. In their reference to botanical illustration, they point to the history of colonialism and the scientist-artist teams sent to South America in the 1700s to detail plants available for colonizers' harvest, often with devastating consequences for indigenous populations. Sanchez points to the extreme conditions such colonial artists sometimes endured to create paintings and drawings of the natural world, without necessarily being complicit with their colonial uses, and how such drawings are now perceived, detached from their history, as "polite decoration."
Indeed, Sanchez's botanical works dare viewers to regard them as "pretty," with all the gendered dismissal the accolade implies. Instead, flowering on the strength of invisible roots or cut down in full bloom, they are insistently individual, and like their viewers, furiously alive.
Lourdes Sanchez: Gaze is on view April 19 – June 2, 2018 at Sears-Peyton Gallery's Chelsea location at 210 Eleventh Avenue. There is an evening reception April 19 from 6:00 – 8:00 p.m. Gallery Hours are 10 a.m. – 6 p.m. Tuesday through Saturday. For more information or to request further press images, please contact the gallery at info@searspeyton.com.