BIOGRAPHY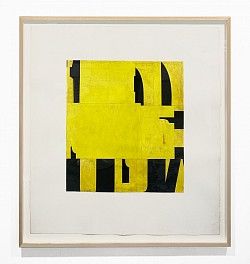 "Collage artists often work according to certain ideas that have to do with exploiting found material. The vast glut of paper materials generated over the last 100 years not only provides a glimpse into the history of the recent past but the ephemera collected often reveals a uniquely private history whose authenticity and genuineness is highly prized. The subtle patinas gathered over the years by these surfaces add a great deal to the sensual quality of the collage works generated from them.
"The hunt for materials is a big part of a collage artist's activity and these materials, to a great degree, determine the nature of the artist's work and in my case, I welcome the stimulus that becomes the impetus for new methods of construction and new compositional ideas. Most often, in years past, I have focused on book sized papers found in second hand shops, flea markets and antique stores from Paris, Texas to Paris France. Recently, however, I have taken an interest in street posters and roadside billboards and the large typographic shapes that they contain in a quest to move from the small intimate scale I have been accustomed to toward a comparatively larger scale of work that might allow me to work on canvas and panel supports without losing the attention to detail. I think of these works as a sort of visual or concrete poetry albeit a nonobjective one whose interest is not in being tied to literary meaning but a meaning of a purely visual nature."
- Cecil Touchon
Cecil Touchon (b. 1956) is a painter, performance artist, collector, draftsman, photographer, and curator. But it is through his collage work that he has made his most lasting mark. His collages are the seeds that grow into his other practices. They have influenced the work of countless artists and designers such as Rai Kawakubo who featured their collaboration in the Comme des Garçons Fall men's collection 2019. Touchon is involved in the contemporary Fluxus community. His work with the group Fluxus West is in the archives of the Museum of Modern Art, NY, the Tate Modern, London, UK, The Getty Research Institute, Los Angeles, CA, the Walker Art Center, Minneapolis, MN, the Fogg Museum of Art Archive, Cambridge, MA, Archivo Francesco Conz, Verona Italy, and the Glasgow School of Art Library, UK. And has been exhibited at Chicago Museum of Contemporary Art. His works are currently on view at the Geneva Art Center, Geneva Switzerland.