BIOGRAPHY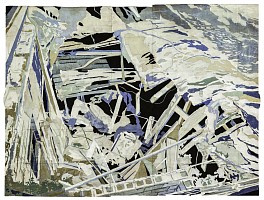 Maysey Craddock is an artist exploring themes of transience, impermanence and memory in the landscape. She currently splits her time between studios in Memphis, TN and the Alabama Gulf Coast. Craddock received her BA in 1993 from Tulane University in New Orleans and her MFA in 2003 from Maine College of Art in Portland, Maine.
Since the mid-nineties, Craddock's work has appeared in exhibitions across the United States and in Germany. Craddock has been an artist in residence at Oberpfälzer Künstlerhaus in Schwandorf, Germany; Maine College of Art in Portland, Maine; and the Virginia Center for Creative Arts in Amherst, Virginia. She is also the recipient of two residency grants from the Vermont Studio Center and grants from the Louisiana Endowment for the Arts and the Tennessee Arts Commission. In 2014 Craddock was awarded the Individual Artist Fellowship Award from the Tennessee Arts Commission. In 2015 she was awarded the Austin Peay State University Tennessee Artist Fellowship. Her work can be seen in many public and private collections, including the Brooks Museum of Art in Memphis, Tennessee and the Arkansas Arts Center in Little Rock, Arkansas. Recent shows have included Strand at David Lusk Gallery, Memphis, and Langham Sea at Sears Peyton Gallery, New York . In 2016 she is looking forward to solo exhibitions at Cris Worley Fine Arts in Dallas, TX and David Lusk Gallery in Memphis, TN.
Outside of the studio, Craddock has developed a comprehensive Professional Practices workshop aimed at assisting artists in developing an articulation of their work and studio practice. This work with artists' best practices has extended into advocacy for visual artists in the Memphis area; Craddock has been working with ArtsMemphis, a regional nonprofit arts granting organization, to build their first ever granting program for individual artists. Her curatorial work at The Medicine Factory in Memphis includes how far back do you want me to go : An Installation by Clover Archer Lyle and Parts to a Whole : Liz Sweibel and Ben Butler.
Craddock's watercolor and gouache paintings on sewn paper bags reflect the strength and promise that can be found in profound change and loss. Based on her own photographs of shifting landscapes, her paintings are intricate renderings of the intersection of man and nature, conjuring an atmosphere of absence and reclamation.
She is represented nationally by David Lusk Gallery, Memphis; Sears Peyton Gallery, New York and Los Angeles, CA; and Cris Worley Fine Arts, Dallas.