PRESS RELEASE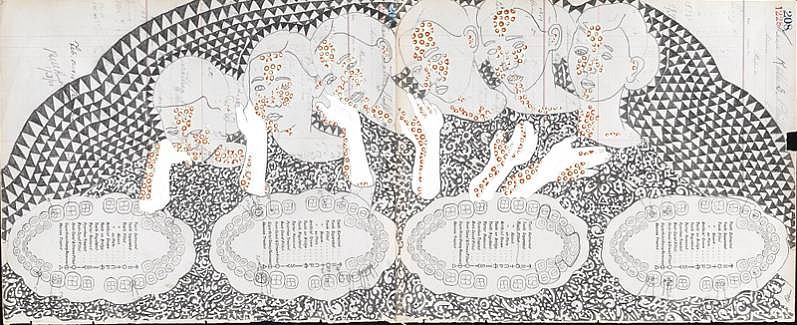 Roz Leibowitz, Shadowland
May 21 – Jun 27, 2009
Roz Leibowitz: Shadowland
May 21, 2009 –June 27, 2009
Opening Reception, Thursday May 21, 5-7PM
Sears Peyton Gallery is pleased to present an exhibition of new works by Roz Leibowitz. The exhibition, entitled Shadowland, will include ink and pencil drawings and collages on paper. This is the artist's second one-person show at the gallery.
Leibowitz's drawings are influenced by her collections of nineteenth and twentieth century ephemera, which she has gathered throughout her life with an eye towards the inconsequential, overlooked and simply discarded. In her view, "items contain the memories of their makers and all items have secrets to share." This view of a vibrant, multi-dimensional, ever-changing universe animated by souls, ghosts, essences and delights is an ancient idea, stretching back from the Platonists through the romantics, all the way to the eccentric sisterhood of Victorian spiritualists. Leibowitz believes we deny this vision at our own peril. Shadowland is an exhibition of her most recent efforts to capture on paper what she describes as "marvels" – the small fleeting miracles that occur in everyday life. Leibowitz is enthralled by the mystery and wonder in these occurrences and is compelled to draw in order to record them.
Her elaborate works of dreamy patterns and decoration are drawn on paper culled from the vintage letters, ledgers, trade catalogs, dental charts, menus, roadmaps, and any other bit of ephemera she collected during her twenty-year tenure as a librarian in Manhattan and Queens. Beneath the layers of patterned ink and pencil drawings are glimpses of text that draw the viewer deeper into the artist's ambiguous world. The simplicity of her tools – pen and pencil – belies the intricacy and complexity of her drawings.
Women and patterns are the central elements in Leibowitz's work. The women, from the Victorian spinster to the stout housewives of the last century, "act as conduits to this shadow world," Leibowitz says. "I consider them characters playing out their roles in an alternative reality." The women in her work are actively observing while being observed; they are connected to our world through the artist's fanciful windows and portals. The patterns, Leibowitz admits, "seem to have taken on a life of their own." In some works, these patterns simply act as detonators, pushing a mundane object or scene into a world of charged beauty.
Roz Leibowitz, a native New Yorker, currently lives and works in Manhattan.
About Sears Peyton Gallery
Founded in 1999 by Macie Sears and Gaines Peyton, Sears-Peyton Gallery is located in Manhattan's Chelsea art district and represents the work of contemporary American artists. With emphasis on process-driven exploration, improvisation, and rigorous craft, Sears Peyton's artists are committed to producing earnest and contemplative works of art. While the gallery's artists work in a wide variety of media and subject matters, the common thread that unites this diverse stable of talent is a grounding in historic styles and subjects, rendered contemporary and seductive through modern processes, interpretations, moods and techniques. The resulting work feels simultaneously timeless and timely.
The gallery is committed to the long term development of their artists – placing works in public and private collections as well as acting as an accessible public space in which works are exhibited and become part of the cultural dialogue.
The show will be on view at Sears Peyton Gallery, 210 Eleventh Avenue, Suite 802 (between 24th and 25th streets) from May 21st through June 27th. Sears Peyton Gallery is open Tuesday through Friday from 10:00AM to 6:00PM and Saturdays from 11:00AM to 6:00PM.